LESSONS/TRAINING
Our trainer offers a wide variety of lessons to accommodate riders of all ages and levels. Her passion is solving rider-horse relationship issues so that horse enthusiasts can maximize their experience with their horse.
Please call Linda Seeger at (843) 241-8580 for additional information regarding lessons/training.
Beginning Dream
A one time, two-hour introduction to horses and riding. You will learn the basics of grooming, tacking and riding. This is a great way to determine if this is to fulfill that one time dream of being able to say you have ridden a horse or the beginning of a dream to fulfill a long love of horses and riding. Price $60
Group/Private Lessons
Our lessons are designed to fit each person's needs from beginning to advanced riders whether it is a private lesson or a group lesson.
Our private lessons allow you the one-on-one professional trailing devoted to your specific needs and the needs of your horse.
Our group lessons provide the camaraderie of riding together and being able to watch and learn from others.
Training
A qualified, professional trainer works with our horses in all areas which include but are not limited to: desensitizing and de-spooking, trailer loading, ground behavior, clipping and all areas of riding. Each horse is different; therefore, different techniques and amount of training time may vary.
---
Meet our Trainer
---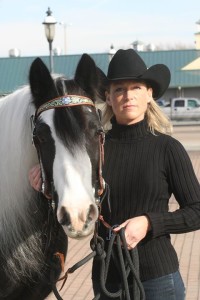 Kendra Owen-Riley – Instruction & Training

Kendra Owen-Riley is a professional trainer, instructor, and carded judge with 24 years of
experience. Her background includes all aspects of starting young horses all the way up to
coaching and competing at the National and World level.

Kendra began her career in 1990 after attending Johnson & Wales University in Providence, RI
majoring in Equine Studies and achieving Dean's List. After her freshman year at Johnson &
Wales she was offered an assistant/apprentice position in Ashland, VA where she spent the next
2 ½ years working under Herm Sherwin and showing Appaloosas and Quarter Horses that were
part of their successful show string. Together they trained and showed several Regional
Champions, Futurity money winners, a National Champion Novice Youth, and had several top
10 in the Nation placings. After leaving Virginia once her apprenticeship was completed she
continued to train and teach at Show and Performance horse training facilities in NJ, CT, ME, NH
and MA where she coached and assisted with multiple Top 10 in the Nation horses and riders.
This extensive experience inspired her to begin accepting offers to perform Instructional clinics
across the Northeast. As well, she has performed riding, Showmanship, and breed-specific
demonstrations as such prestigious events as the AQHA Region 6 Experience , Fidelity
Investments Jumper Classic Family Day, and Massachusetts Equine Affaire.

In addition, Kendra carries Judge's cards with New England Horseman's Council holding her #1
rated Western judge's card, Open Horse Show Association, New England 4-H, and is an AQHA
Professional Horsewoman member.

Kendra is proud to offer a comprehensive lesson and training program that is designed to help
horse and rider gain understanding of how to properly communicate through proven training
techniques and riding exercises that are presented at the level that is appropriate for the student.

She offers a very knowledgeable, friendly, and approachable demeanor and her motto is
"Creating Harmony Between Horse and Human".